Theme: Novel Targets and Therapies in Gastroenterology
Gastroenterologists 2018
About Conference
With an immense pleasure we welcome you to attend the 18th World Gastroenterologists Summit to be held from September 7-8, 2018 in Auckland, New Zealand.
Gastroenterologists 2018 Conference website is attracting 25000+ Gastroenterologists, Hepatologists, Surgeons ranging from Researchers, Academicians and Business professionals, who are working in this professional arena. This unique opportunity that we provide to our speakers and attendees is not being offered by any other conference committees. Through this the abstracts and research data of our speakers and organizing members getting global visibility that you would be receiving in addition to global networking opportunities before, during and after the conference.
Conference Events
3000+ Conferences worldwide in 30+ countries consistently.
Provides new discoveries and most recent advancements in the important field.
Participation of skilful volunteers from universal associations
Internationally logical representations
Enlightenment for early researchers and understudies
Perfect arena for worldwide network between professionals and researchers
Over 25 Million+ Visitors and 20000+ dynamic Visitors for every meeting
Why Gastroenterologists 2018?
Explore your research with all the sectors of Gastroenterology
Establish yourself in the field of study
Examining the research challenges in the scientific community.
Opportunities to learn new things and gain a profound understandings
Networking with skilful associates
Expanding interactive knowledge and satisfy the needs
Valuable sessions for the functional companions.
To build your professional network in the relevant field.
Meet Academics and Industrial professionals to get inspired
Poster - paper presentations and world class presentations
Meet with skilled and affiliated personalities.
Gastroenterologists 2018 establishes mutual interaction and cooperation with scientific researchers in the area of Gastroenterology, Hepatology, laparoscopy, colonoscopy, Bariatric Surgery, Endoscopy, alimentary canal ailments, Endoscopic Retrograde cholangio pancreatography (ERCP), Gastrointestinal Surgery.
The goals of the conference are to gather scientific researchers and professionals involved in the field of gastroenterology to explore information, ideas and scientific data and to share their experience.
Goals
Establishing the professional network
Creating contacts to provide a means for scientific and industrial exchanges
Boosting the scientific research with other scientific professionals in the country and throughout the world
Strengthening the network between university and other related industries.
Summarize the studies of Gastroenterology.
Discussing the latest findings and achievements in Gastroenterology.
Conference Sessions
Medications and Gastrointestinal diseases
Gastrointestinal endoscopy
Paediatric Gastronterology
Gallbladder agenesis
Esophageal reflux disease
Gastric ulcer
Endoscopic ultrasonography
Gastrointestinal hemorrhage
Gallstone Pancreatitis
Gastrointestinal Immunology
Gastrointestinal Oncology
Irritable bowel syndrome
Liver cirrhosis
Gastrointestinal surgery
Anorectal Disorders
Neurogastroenterology and motility
Supporting Journals
Journal of Gastrointestinal & Digestive System
Journal of Liver
Journal of Liver: Disease and transplantation
Track: 1 Medications and Gastrointestinal Diseases
Gastrointestinal diseases are the ailments which are affected to any organ of the GI tract from oesophagus to the rectum and other vital organs like liver, gallbladder. GIT includes wide variety of disease ailments which may be acute or chronic. When gastritis persists for a longer period of time, then it is associated with ailments, including atrophic gastritis, pyloric stenosis, and gastric cancer. There are latest medications shows to be effective in recovering symptoms of gastrointestinal bleeding includes Tranexamic Acid to treat gastrointestinal bleeding which reduces mortality rate from 10% to 7.5%.
Track: 2 Gastrointestinal Endoscopy
Gastrointestinal Endoscopy examines the alimentary tract using a tube-like device with a light on the end. A camera at the end of the tube transmits the lighted image before the tube to a display screen so that one can observe the inside of the upper tract as the tube advances. The most common indications are dyspepsia, persistent heartburn, acute bleeding from the upper git, and anaemia. The most common findings are stomach or duodenal ulcer or esophagitis.
Track: 3 Paediatric Gastroenterology
Paediatric gastroenterology treats children from the new born period through the teen years. They choose paediatric care the core of their medical practice, which provides extensive experience especially in the care of infants, children, and teens. It provides treatment of the bleeding from the gastrointestinal tract, food allergies or intolerances, Severe or complicated GERD, Inflammatory bowel syndrome, Liver disorders, Acute or chronic abdominal pain, Vomiting, Chronic constipation, Chronic or severe diarrhoea.
Track: 4 Gallbladder Agenesis
Gallbladder agenesis is an isolated finding in nearly 70% of people. Agenesis of the gallbladder is most often an unpredictable occurrence with unknown cause. However, there are some people who have indicated the condition with hereditary forms of gallbladder agenesis. A child with gallbladder agenesis and distant malformations leads to abnormality in chromosome that leads to poor history.
Treatment is not required, if the isolated gallbladder agenesis is healthy.
Track: 5 Esophageal Reflux Disease
Esophageal reflux disease or Gastroesophageal Reflux Disease (GERD) is a digestive ailment which is due to the high acidic secretions in stomach or food and fluids reverted back from the stomach to the oesophagus. It affects people of all ages from infants to older adults. GERD mostly affects to the asthma patients in which oesophageal sphincter relax and allows the gastric contents to revert back to the oesophagus.
Track: 6 Gastric Ulcer
Peptic ulcer disease (PUD) is a break in the lining of the stomach, first part of the small intestine or occasionally the lower oesophagus. A stomach ulcer is known as a gastric ulcer whereas the ulcer in upper part of intestine is duodenal ulcer. The most common complications of a duodenal ulcer are waking at night with upper abdominal pain that improves with intake of food. Patient with a Gastric ulcer may have pain with eating. The pain is often said as a burning or dull ache. Other symptoms include belching, vomiting, weight loss, or poor appetite.
Track: 7 Endoscopic Ultrasonography
Endoscopic ultrasonography (EUS) or echo-endoscopy is a medical procedure in which endoscopy (insertion of a probe into a hollow organ) is correlate with ultrasound to obtain images of the internal organs in the chest, abdomen and colon and to analyse the walls of these organs. Combined with Doppler imaging, adjacent structures and nearby blood vessels can also be determined. EUS is also used to visualize the other accessory organs in the alimentary tract such as liver, gall bladder and pancreas.
Track: 8 Gastrointestinal Haemorrhage
Gastrointestinal haemorrhage or GI bleed refers to the all forms of bleeding in the digestive tract from the oral cavity to the rectum. When there is frequent blood loss for a short period of time, symptoms may include vomiting red blood, vomiting black blood, bloody stool, or black stool. Bleeding over a long time may leads to anemia resulting in tiredness and chest pain. Other indications may include abdominal pain, shortness of breath, pale skin, or passing out. The area of bleeding in the GIT may be determined by using Endoscopy.
Track: 9 Gallstone Pancreatitis
Gallstone pancreatitis is aggravation of the pancreas that outcomes from blockage of the pancreatic duct by a gallstone. This happens at the level of the sphincter of oddi, a round muscle situated at the opening of the bile channel into the intestine. If a stone from the gallbladder should go down the normal bile channel and stuck out at the sphincter, it prevents the flow of all material to the outer environment from the liver and pancreas. This results in inflammation of the pancreas which may be severe. Gallstone pancreatitis can be a long life chronic disease and sometimes it may develop severe pain in abdomen.
Track: 10 Gastrointestinal Immunology
Gastrointestinal tract is the largest immune organ of the human body and represents a vast surface to the external environment which studies host-microbe interaction in celiac disease, Ulcerative colitis and inflammatory bowel disease.
Gastrointestinal biopsies are obtained from the patients with these disorders during endoscopies.
To study the characteristics and features of host genes and micro biome in gastrointestinal tract, various new techniques of molecular biology are used.
Track: 11 Gastrointestinal Oncology
Gastrointestinal cancer refers to abnormal conditions of the gastrointestinal tract (GI tract) and accessory organs of digestive tract, including the oesophagus, stomach, biliary system, pancreas, intestine, rectum and anus. The indications or symptoms which are related to the affected organ include obstruction at the sphincters which may leads to difficulty in engulfing and defecating. This requires the diagnosis by endoscopy, biopsy of suspicious tissue. The determination regularly requires endoscopy, trailed by biopsy of suspicious tissue. The treatment relies upon the area of the tumour, and in addition the sort of disease cell and whether it has attacked different tissues or spread somewhere else.
Track: 12 Irritable Bowel Syndrome
Irritable bowel syndrome (IBS) is a common disorder that affects the large intestine and can cause bouts of stomach cramps, bloating, diarrhoea and/or constipation. Signs and manifestations incorporate cramping, stomach torment, swelling, gas, and loose bowels or blockage, or both. IBS is a perpetual condition that you'll have to oversee long term. The indications vary between individuals and influence a few people more seriously than others.
Track: 13 Liver Cirrhosis
Cirrhosis is a late phase of scarring (fibrosis) of the liver caused by many types of liver ailments and conditions, for example, hepatitis and chronic liquor abuse. The liver completes a few important functions, incorporating detoxifying harmful substances in your body, cleaning your blood and making fundamental supplements.
Track: 14 Gastrointestinal surgery
Gastrointestinal surgery includes two specialties of general surgery (upper gastrointestinal surgery and colorectal surgery). GI surgery includes the examination and treatment of various surgical diseases of the digestive tract from the oesophagus to the rectum, and surgical sicknesses of the stomach related tract from the throat to the rectum, and surgical illnesses of the liver, biliary pipes and pancreas.
Gastrointestinal surgery is subjected to treat few regular malignancies, for example, stomach, pancreatic and colonic tumours, and a few illnesses not requiring surgery such as pancreatitis.
Track: 15 Anorectal Disorders
Anorectal disorders are a group of medical disorders that occur at the intersection of the anal canal and the rectum of the large intestine. The most well-known ailments are Haemorrhoids, Anal Fissure, Anorectal abscess and anal fistula. The patients those who have severe bleeding, pain are indicated for surgical treatment. The most widely recognized surgical medicines for serious haemorrhoids are elastic band ligation and haemorrhoidectomy.
Track: 16 Neurogastroenterology and Motility
Neurogastroenterology includes the study associated with brain, the alimentary canal, and their interactions with significance to the comprehension and management of gastrointestinal motility and functional GI disorders. Neurogastroenterology concentrates on the functions, malfunctions, and the malformations of the sympathetic, parasympathetic, and enteric divisions of the digestive tract.
Track: 17 Nutrition in Gastroenterology
Nutrition relates with the interaction of nutrients and other moieties in GIT and in relation to maintain the growth, reproduction, wellness and disease of an organism. It includes food intake, absorption, distribution, biosynthesis, catabolism and excretion. Lack of proper nutrition is associated with poorer gastrointestinal tract clinical outcomes which lead to malnutrition. This is due to Malabsorption, failure to use certain supplements, increased requirements.
Track: 18 Bariatric Surgery
Bariatric surgery is a weight loss surgery includes a variety of procedures performed to the people who have obesity. Weight loss is achieved by reducing the size of the stomach with a gastric band or through removal of a portion of the stomach (sleeve gastrectomy or biliopancreatic diversion with duodenal switch) or by resecting and re-routing the small intestine to a small stomach pouches (gastric bypass surgery).
Related Conferences:
Gastroenterology Conference| Liver Congress| Conference Series Ltd
18th International Conference on Gastroenterology and Endoscopy, October 29-30,2018 San Francisco, California, USA; 12th Global Gastroenterologists Meeting, March 15-16, 2018 Barcelona, Spain; 6th International Conference on Hepatology May 16-17, 2018 Osaka, Japan; 14th Annual Congress on Gastroenterology & Hepatology May 21-22, 2018 Singapore; 6th World Congress on Hepatitis & Liver Diseases, June 18-20, 2018 Dublin, Ireland; Euro Global Congress on HCV, June 28-30, 2018 Amsterdam, Netherlands; 15th International Conference on Digestive Disorders and Gastroenterology, July 11-12, 2018 Sydney, Australia; 15th World Congress on Gastroenterology & Therapeutics, August 6-7, 2018 Hyatt Regency Osaka, Japan; 16th International Conference on Gastroenterology and Digestive Disorders, August 6-7 , 2018 Abu Dhabi, UAE; 13th Euro-Global Gastroenterology Conference, August 20-21, 2018 Rome, Italy; 14th International Conference on Clinical Gastroenterology and Hepatology, August 29-30, 2018 Toronto, Ontario, Canada; 17th World Digestive Diseases Conference, September 10-11, 2018 | Bucharest, Romania; World Summit on Liver Cirrhosis and Hepatitis, September 12-13, 2018 Singapore; 3rd International conference on Digestive Diseases, Oct 22-24, 2018, Berlin, Germany; World Gastroenterology Organization, American Gastroenterological Association, Canadian Association of Gastroenterology.
Gastroenterologists 2018 highlights the theme "Novel Targets and Therapies in Gastroenterology". It fundamentally focused on the latest technologies and explores the new research with all the sectors of gastroenterology.
Gastroenterology is an ever-advancing branch of internal medicine dealing with multiple ailments and different conditions of the gastrointestinal tract. It's expanding knowledge and treatment with the advanced technologies adds a greater value in the GI market.
Why to attend?
The Professionals throughout the world focused on latest advancements and research in the field of gastrointestinal conditions. Conference can expose you to new ways of conducting your business and help you discover how to be more productive and also adds a layer of knowledge and provides the valuable opportunity to promote your career in your business; Gastroenterologists 2018 sharpen your skills, explores new ways of working and provides you the best chance to network with the scientific peers from various countries which gives you the spark inspiration.
Target Audience
Gastroenterologists
Hepatology Associates
General Professionals
Gastroenterology Surgeons
Anaesthetists
Paediatricians
Research Scientist
Physicians
Endoscopy Surgeons
Radiologists
Oncology Specialists
Pharmaceutical Representatives
Practical Nurse
Academicians
Medical Practitioner
Internists
Nutritionist
Gut Microbiologists
Internal Drug Authorities
Clinical Research Organizations
Symptomatic Specialist Organizations
World Gastroenterology Organizations
American Gastroenterological Association
American Society of Bariatric Physicians (ASBP)
Association of Gastroenterologists of Bosnia and Herzegovina
British Society of Gastroenterology (BSG)
Bulgarian Association of Surgeons and Gastroenterologists
European Society of Gastrointestinal Endoscopy
Gastroenterohepatology Association of Montenegro – GAM
Indian Society of Gastroenterology
National Association for Colitis and Crohn's Disease
The Australian and New Zealand Gastric and Oesophageal Surgery
The Society of Gastroenterology Nurses and Associates
United European Gastroenterology
World Gastroenterology Organisation
Gastroenterology associated Universities in New Zealand
University of Otago Christchurch
NZNO Gastroenterology Nurses College
Dunedin School of Medicine
New Zealand College of Chinese Medicine (NZCCM)
Massey University
University of Auckland - Medical and Health Sciences
Gastroenterology associated Companies in New Zealand
Devatis Limited Ltd
Allergan plc
New Zealand Medical & Scientific Ltd
Cancer Trials New Zealand
Australian and New Zealand Gastroenterology international association limited
Pharmaco (Nz ) Ltd
MedXus Ltd
Olympus New Zealand Ltd
Endoventure Ltd
Nova Pharmaceuticals
Astrazeneca Ltd
Gastroenterology associated Hospitals in New Zealand
Auckland City Hospital
Boulcott Hospital
Bowen Hospital
Grace Hospital Tauranga
MacMurray Digestive Disease and Endoscopy Centre
Mercy Hospital
Nelson Marlborough Health
Royston Hospital
Southern Cross Hospitals
Starship Hospital
Wakefield Hospital
Global Gastroenterology Growth Drivers
Gastroenterology growth to outpace other specialties in global ASC market
A Future Market reports that gastroenterology's development will probably surpass different claims to fame inside the worldwide ASC (ambulatory surgical centre) market. By 2027, the GI division is probably going to increment at a 4.7 CAGR. Multispecialty focuses are probably going to go before the market with a normal 65% market share. North America is probably going to go before the market through 2027, with Western Europe trailing behind. These two areas include 82 % in addition to the market. Factors driving development incorporate a developing drive to bring down medicinal services expenses and more Medicare spending on ASCs.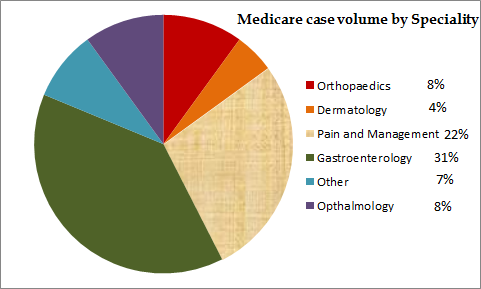 Among all the specialities, Gastroenterology segment is the most attractive segment by Speciality area which relied upon for dominating worldwide ambulatory surgical centres market in terms of value share during the forecast period. Gastroenterology is expected to develop at a CAGR of 4.7% over the period.
Market Dynamic
Global Gastrointestinal Endoscopic Devices Market
The global gastrointestinal endoscopic devices market accounted for approximately USD 5.6 Billion in 2015 and is expected to reach approximately USD 8.5 Billion by 2021, growing at a CAGR of around 7.0% between 2016 and 2021.
Scope
GI market worth $4.4B by 2020
The US and European gastrointestinal endoscopic market is relied upon to develop to over $4.4 Billion by 2020. Market development will principally be driven by an expansion popular for gastrointestinal endoscopic methods.
Gastrointestinal endoscopy is a standout amongst the most generally performed restorative techniques in the world. It is estimated that there will be more than 75 million gastrointestinal endoscopic methods performed in the U.S. and Europe combined by 2020. The major part of these methodologies is colon cancer screenings, the removal of gastrointestinal tract ailments.
Recent positive reputation for virtual colonoscopy will go about as a market driver, likely to the detriment of ordinary colonoscopy incomes. This rising interest for colorectal malignancy screening is expected to drive the market for gastrointestinal endoscopes and instrumentation.
Technological Innovation in the GI Endoscope Market
New Technological advancements will continue to precede the gastrointestinal endoscope market. Recent generations of endoscopes will continue to progressively promote on visualization and detection technologies. It is projected to exceed $1.7 billion by 2020.
To share your views and research, please click here to register for the Conference.
To Collaborate Scientific Professionals around the World
Special Issues
All accepted abstracts will be published in respective Our International Journals.
Abstracts will be provided with Digital Object Identifier by
---
Conference Series LLC LTD Destinations
Webinars & Conferences By Continents